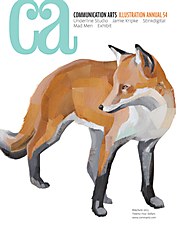 In addition to highlighting the best illustration of the last year—a broad range of inspiring work by today's top illustrators—our May/June issue offers features on the art of Mad Men; the observational humor and rich environments captured by photographer Jamie Kripke; Underline Studio, where geometric shapes and expressive typography live in harmony; and Stinkdigital, where interactive and film are combined to great effect. This Annual also includes a wealth of insightful columns covering design issues, advertising, business, typography, creativity and more. You won't want to miss this issue!

SHARE THIS:

2013 May/June Illustration Annual 54

$24.00
Shipping
and local tax will be calculated on check out



Features

Mad Men
A look at the art that is truly imitating life (in advertising).
by Julie Prendiville Roux

Stinkdigital
Film and interactive are the driving forces of this digital studio.
by Joe Shepter

Jamie Kripke
Risk, reward and intent define the work of this photographer.
by Rebecca Bedrossian

Underline Studio
Delicate lines, geometric shapes and expressive typography converge at this design firm.
by Ellen Shapiro

Exhibit
The latest and best in visual communication from here and abroad.
by Jean A. Coyne



Fresh

Landland
The work of this Midwestern printmaking duo is varied and rich.

Olivia Bee
A photographer intent on capturing life as she experiences it.

Column Five
Data visualization comes through loud and clear from this agency.



Columns

Advertising
Chris Jacobs shares what he and others have learned from Mike Hughes.

Design Culture
A discussion on capturing and sharing beauty, by Wendy Richmond.

Voices
Scott Maney on brands, and how they move us.

Design Issues
Alien Nation, Part Two, by DK Holland.

Web Watch
Threadless.com and three sites where artists can merchandise their work.

Business
Shel Perkins outlines the key ingredients in contracts between designers and clients.

Creativity
Advice for illustrators, from Lisa L. Cyr, on navigating a competitive market.

Typography
Angelynn Grants speaks to Richard Kegler about the Hamilton Wood Type Foundry.

Design Trends
The 2012-2013 Salary Survey Comparison and hiring insights from creative recruiters.


Shipping
and local tax will be calculated on check out