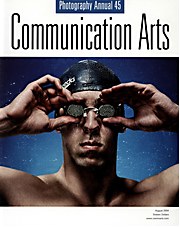 In addition to highlighting the best photography of the last year, our August issue offers insightful articles by Sean Kernan, Wes Perrin and Bill Russell, among others. If you buy, make or use photography, you won't want to miss this issue!

SHARE THIS:

2004 August Photography Annual 45

$16
Shipping
and local tax will be calculated on check out



Fresh

OneFastBuffalo
A Dallas designer who gives into chaotic design impulses.

Jim Fiscus
Both Athens, Georgia, and NYC are home to this photographer who creates unique tones in his elaborate tableaux.

Tavis Coburn
This Toronto-based illustrator draws inspiration from 1940s and '50s G-Man magazine covers.



Columns

Design Culture
Wendy Richmond analyzes how camera phones are changing the way we see, and take photographs.

Design Issues
Sean Kernan offers advice on surviving criticism.

Legal Affairs
Tad Crawford examines copyright, the public domain and the Internet.

Web Watch
Dockers Europe travels in a new, urban direction. Two useful bookmarks and stock for mobile handsets.

Business
Wes Perrin explains how he retired early and lived to tell about it.

Creativity
Bill Russell interviews Canadian designer and illustrator Louis Fishauf.

Conference Review
Sam McMillan reports on the first Art Center College of Design conference.

Advertising
Ernie Schenck advises against the doughnut approach to commercials.


Shipping
and local tax will be calculated on check out