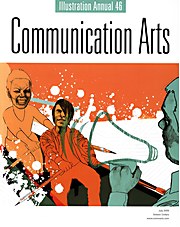 In addition to showcasing the best illustration of last year, our July issue offers Robert L. Peters's Opinion/Commentary piece on worldwide identities; Sharoz Makarechi's Design Issues column about her experience as a creative director in Afghanistan; and Ruth Hagopian's Creativity piece on Louise Fili; plus informative columns on Advertising, Freelance, Design Culture, Typography and more. Order your copy today!

SHARE THIS:

2005 July Illustration Annual 46

$16
Shipping
and local tax will be calculated on check out



Fresh

Sarajo Frieden
Pair imagination with wonder and the work of this Los Angeles illustrator emerges.

Dan Goldberg
A Chicago photographer with sharp focus on keeping it simple.

Fusebox Brand Communications
Lincoln, Nebraska, is home to an agency with a strong Midwestern work ethic.



Columns

Creativity
Louise Fili-design infused with pleasure by Ruth Hagopian.

Advertising
Sally Hogshead reveals the sacred cows lurking in many agencies.

Web Watch
Montréal's best-kept secrets unveiled through an artistic site, and three bookmarks to get lost in.

Design Issues
Sharoz Makarechi shares some of her experiences as a creative director in Afghanistan.

Design Culture
Wendy Richmond encourages creative digression.

Freelance
Maria Piscopo speaks with Stefan G. Bucher about building a creative community.

Typography
Bill Davis and Steve Matteson discuss brand typography in the user interface.

Opinion/Commentary
Observations and ideas on worldwide identities by Robert L. Peters, FGDC.


Shipping
and local tax will be calculated on check out