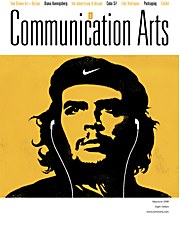 The May/June issue offers a significant historical and cultural look at graphic design in post-Revolution Cuba; a range of innovative packaging design; and profiles of New Jersey-based illustrator Edel Rodriguez, photographer Diana Koenigsberg of Los Angeles, tda advertising & design in Boulder, Colorado and British Columbia-based Tom Brown Art+Design. Plus a wealth of information in columns by Marty Neumeier, Jonathan Hoefler, Liz Paradise, RitaSue Siegel, among others. This is one issue you won't want to miss!

SHARE THIS:

Shipping
and local tax will be calculated on check out



Features

Tom Brown Art+Design
This Canadian designer proves he's a man for all seasons, and time zones.
By Anne Telford

Diana Koenigsberg
The work of this Los Angeles photographer is carefully choreographed—with color in the starring role.
By Julie Prendiville Roux

tda advertising & design
The rugged outdoors informs the work (and lives) of this Boulder, Colorado agency.
By Matthew Porter

Cuba Si!
Graphic design in post-Revolution Cuba.
By Robert L. Peters, FGDC

Edel Rodriguez
This New Jersey-based illustrator/art director is a creative chameleon.
By Anne Telford

Packaging
A range of projects from design's most visible discipline.
By Rebecca Bedrossian

Exhibit
The latest and brightest work in visual communication from here and abroad.
By Jean A. Coyne



Fresh

Gina & Matt
The seamless exchange of ideas marks the work of these Philadelphia illustrators.

Eva Kolenko
The enthusiasm of this San Francisco photographer permeates her work.

Method Art + Design
In Wichita, Kansas, honesty fuels this design firm.



Columns

Design Issues
For inspiration, Carolyn McCarron Sienicki suggests listening to your life.

Design Culture
Wendy Richmond shares a simple lesson about misinformation and the questions it raises.

Business
RitaSue Siegel discusses the valuable role design leaders play in the business world.

Advertising
The Day I Became My Mother by Liz Paradise.

Web Watch
An elegant timeline, and three sites for designers to bookmark.

Opinion/Commentary
An excerpt from Marty Neumeier's upcoming book, Zag (New Riders).

Typography
Jonathan Hoefler offers sound advice on pairing fonts.

Legal Affairs
Licensing photography in the digital age by Richard Weisgrau and Victor S. Perlman.


Shipping
and local tax will be calculated on check out