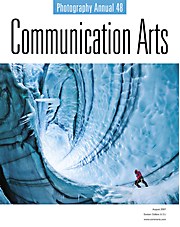 In addition to showcasing the winning photographs from our juried competition, our August issue offers insightful articles by John Emerson, RitaSue Siegel, Alex W. White and Don Brunsten, among others. If you an art buyer, art director or photographer, order your copy today!

SHARE THIS:

2007 August Photography Annual 48

$16
Shipping
and local tax will be calculated on check out



Fresh

Kate Quinby
This bi-coastal illustrator is doing what she dreamed of as a child.

Carlos Tarrats
A California-based pho-tographer relies on passion and preparation to get the shot.

10am
This Singapore-based firm creates work that builds relationships.



Columns

Web Watch
The American Red Cross's role in the September 11 recovery and three sites that explore the application of color.

Design Issues
John Emerson explores whether, and when, designers should make a political commitment.

Design Culture
Wendy Richmond wonders whether technology fills a need or creates one.

Business
RitaSue Siegel offers advice about how to negotiate a compensation package.

Typography
Alex W. White discusses how words and pictures need to work together.

Advertising
Ernie Schenck hopes that we never forget how to communicate deeply.

Legal Affairs
Don Brunsten identifies intellectual property hazards unique to Web design.


Shipping
and local tax will be calculated on check out