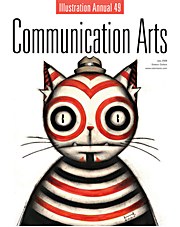 In addition to highlighting the best illustration of the last year, our July issue offers a wealth of informative columns that cover opportunities in the gaming/entertainment market, the branding of The North Face, insightful commentary on illustration today and much more. If you buy, make or use illustration, you won't want to miss this issue!

SHARE THIS:

2008 July Illustration Annual 49

$16
Shipping
and local tax will be calculated on check out



Fresh

Mutt Ink
Observation and imagination are paramount for this Glenside, Pennsylvania, illustrator.

Eric Kiel
This Hailey, Idaho, photographer holds nature in high-esteem-in life and work.

WAX
A tongue-in-cheek approach to advertising keeps this Calgary agency's work fresh.



Columns

Creativity
Sam McMillan visits the two firms that created The North Face experience.

Opinion/Commentary
Lisa L. Cyr discusses illustration in the gaming markets.

Design Issues
Farewell My Lovely Drawing Table by Rick Meyerowitz.

Design Culture
According to Tim Gilman-Sevcik, there's a lot to learn from reality TV.

Emerging Media
Joe Shepter looks at Web design in the age of metrics.

Web Watch
The Matthau Company and three online sources of vintage design.

Business
Maria Piscopo speaks with Tad Crawford about copyright.

Advertising
Ernie Schenck asks, What makes a great team?


Shipping
and local tax will be calculated on check out