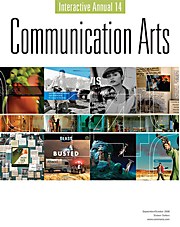 The September/October issue of Communication Arts showcases the winners of our 14th Interactive Competition. In addition, you'll also find features on New York photographer Howard Schatz, the fantastic, illustrated tableaus created by Red Nose Studio, a Minneapolis agency that keeps it simple, and a historical and cultural look at graphic design in New Zealand. With insightful columns by Laurie Rosenwald, Thomas Phinney and Ernie Schenck, you won't want to miss this issue!

SHARE THIS:

2008 September/October Interactive Annual 14

$16
Shipping
and local tax will be calculated on check out



Features

Howard Schatz
Surprise and delight are hallmarks of this New York City-based photographer.
By Anne Telford

Living on the Edge
Visual communication design in New Zealand.
By Robert L. Peters, FGDC

Red Nose Studio
This 3-D illustrator mixes rich imagination and homegrown engineering to craft a world of make-believe.
By Matthew Porter

mono
A Minneapolis agency that stands for simplicity.
By Tiffany Meyers

Exhibit
The latest and best in visual communication from here and abroad.
By Jean A. Coyne



Fresh

Jay Taylor
This U.K.-based illustrator blends social commentary, stationery and a bit of humor in his work.

John Fulton
Less is more for this Savannah, Georgia-based photographer.

Catherine Lepage
A Montréal designer keeps her work playful and surprising.



Columns

Design Issues
Laurie Rosenwald advocates making mistakes on purpose.

Design Culture
Wendy Richmond expands her visual awareness through sound.

Environment
Sustainability: Nike puts its best foot forward, by Sam McMillan.

Emerging Media
Joe Shepter explores the riddle of advertising on social networking sites.

Business
Tad Crawford discusses two new Orphan Works bills.

Web Watch
An unconventional Web site for an avant-garde architecture school, and three online destinations.

Advertising
Ernie Schenck cautions that envy is a seductive thing.

Typography
Thomas Phinney on text, glyphs and OpenType.


Shipping
and local tax will be calculated on check out