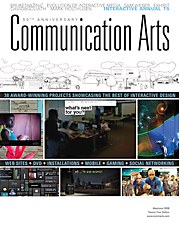 The May/June 2009 issue of Communication Arts packs a punch showcasing the winners of our 15th Interactive Annual. In addition, you'll find feature articles on Sam Weber, a New York illustrator whose work is emblematic of a generation; the creative work coming from Bruketa&Zinic in Zagreb, Croatia; a behind the scenes look at the elaborate work of San Francisco photographer Mark Holthusen; Los Angeles ad agency David&Goliath; and a continuation of our 50th Anniversary coverage with a look back at the evolution of interactive design. CA's regular columns cover typography, business, design trends, advertising, design culture, creativity and design issues. Order your copy today!

SHARE THIS:

2009 May/June Interactive Annual 15

$24.00
Shipping
and local tax will be calculated on check out



Features

Bruketa&Zinic
In Zagreb, Croatia, cultural zeitgeist and boundless enthusiasm inform the work of this design firm.
By Linda Cooper Bowen

Mark Holthusen
This San Francisco-based photographer brings a truly eclectic background to bear on his work.
By Anne Telford

David&Goliath
A fearless agency in El Segundo, California, takes on cars, both real and toy, with a sharp wit.
By Julie Prendiville Roux

Sam Weber
A Brooklyn illustrator weaves texture and tension into enigmatic dreamscapes.
By Rebecca Bedrossian

Exhibit
The latest and best in visual communication from here and abroad.
By Jean A. Coyne

Evolution of Interactive Media
A sampling of award-winning work and industry milestones from the past fifteen years.



Fresh

Lorenzo Petrantoni
An Italian illustrator with one foot planted firmly in the past and the other stepping into the future.

Fernando Decillis
Characters come alive in the work of this Atlanta photographer.

EightHourDay
Design is a way of life for this husband-and-wife team in Minneapolis.



Columns

Typography
Thomas Phinney's stray thoughts on amateurs vs. professionals, color in books and women in typeface design.

Design Issues
John Emerson explores the power of information design.

Design Culture
Wendy Richmond advises keeping our creative needs met in times like these.

Creativity
Tiffany Meyers sits down with Lookingglass Theatre to discuss set design.

Opinion/Commentary
The workflow model of old is changing at many agencies, according to Joe Shepter.

Advertising
Baba Shetty looks at hype-cycle dangers.

WebWatch
A redesigned Gallup.com brings the entire brand to one location, and three design sites to bookmark.

Business
Settlement on Google Book Scanning by Tad Crawford.

DesignTrends
The 2008-2009 salary survey comparison, and where to find a silver lining.


Shipping
and local tax will be calculated on check out