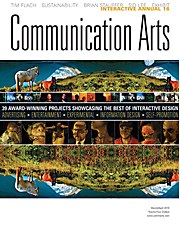 In addition to showcasing the winners of our sixteenth Interactive Competition, the March/April issue includes feature articles on the Montréal creative shop Sid Lee; the immediate and graphic illustration of Brian Stauffer, Tim Flach, a London photographer who captures animals in all their grace; and a comprehensive look at sustainable design practices, from what designers can do in their own offices, for their clients and for the planet. You'll also find insightful columns covering typography design, culture, emerging media and business. Order your copy before it sells out!

SHARE THIS:

2010 March/April Interactive Annual 16

$24.00
Shipping
and local tax will be calculated on check out



Features

Tim Flach
Curiosity fuels the work of this London photographer.
by Rebecca Bedrossian

Educate, Legislate, Agitate
Designers are serious about sustainability: a status report with resources and The Living Principles made clear.
by Sam McMillan

Brian Stauffer
A Miami illustrator crafts images that are smart, graphic and immediate.
by Matthew Porter

Sid Lee
This Montréal agency delightfully defies categorization with its atypical worldview.
by Tiffany Meyers

Exhibit
The latest and best in visual communication from here and abroad.
by Jean A. Coyne



Fresh

Lisel Jane Ashlock
History, nature and fantasy coexist in the work of this Brooklyn illustrator.

Matthew Turley
This Salt Lake City photographer finds inspiration and beauty in the great outdoors.

Molho
A motion graphics studio with lyrical work calls São Paulo home.



Columns

Design Issues
Part one of a two-part series on design ethics by DK Holland.

Design Culture
Wendy Richmond explores white space and its relationship to content.

Typography
The creative process behind Eames Century Modern, by Angelynn Grant.

Emerging Media
An interview with Paul Lewis of SoDA, by Joe Shepter.

Business
Copyright and the Internet, by Tad Crawford and Arka Chatterjee.

Advertising
Robbie Vitrano explains how MacGyver Marketing is good for society—and the industry.

Web Watch
Atom Days, an interactive history of nuclear energy and proliferation, and three sites to bookmark.

Design Trends
A snapshot of the latest developments in typography.


Shipping
and local tax will be calculated on check out