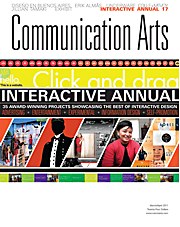 The March/April issue packs a virtual punch showcasing the winners of our 17th Interactive Competition. The Interactive Annual also includes feature articles on New York illustrator Jillian Tamaki; the European typographic design collective Underware; San Francisco photographer Erik Almas; the reinvigorated Midwest ad agency of Colle+McVoy; and a look at the design work coming out of Buenos Aires. With thought-provoking columns on typography, design, culture, emerging media, advertising and business, you won't want to miss this issue!

SHARE THIS:

2011 March/April Interactive Annual 17

$24.00
Shipping
and local tax will be calculated on check out



Features

Erik Almås
This San Francisco photographer is craftsman, strategist and artist.
by Ruth Hagopian

Underware
A 21st-century virtual studio bent on creating delicious typography.
by Angelynn Grant

Colle+McVoy
This Minneapolis ad agency has undergone a creative reinvention.
by Tiffany Meyers

Jillian Tamaki
A New York illustrator whose line and brush-work define a new modern expression.
by Jim Hanas

Diseņo en Buenos Aires
A look at the design work coming from this Latin American metropolis.
by Linda Cooper Bowen

Exhibit
The latest and best in visual communication from here and abroad.
by Jean A. Coyne



Fresh

Nate Duval
The posters this Boston illustrator creates embody both music and art.

Elizabeth Weinberg
This Brooklyn photographer captures slices of life with her lens.

Nivard Thoes
A graphic designer who combines type and color to great effect.



Columns

Design Culture
Wendy Richmond discusses reinvigorating a dormant practice in Visual Atropy.

Design Issues
Blow Up the Design School! part 1, by DK Holland.

Typography
Allan Haley queries designers about their favorite fonts.

Emerging Media
The current state of 3-D gesture technology, by Joe Shepter.

Advertising
Ernie Schenck on the similarities of an advertising career and a velveteen rabbit.

Web Watch
CODA Automotive, and three sites that combine information and graphics.

Business
Five key steps to becoming a high-performance firm, by David C. Baker.

Design Trends
A look at color in all its glory, from fashion and purchasing power to choosing palettes.


Shipping
and local tax will be calculated on check out